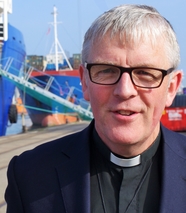 Our Rector Rev Richard Kilgour was instituted by Bishop Gregor Duncan to the linked charges of Holy Trinity Motherwell and St.Andrew's Wishaw in February 2018. Since coming to Lanarkshire Richard has led the local congregations in developing an outward looking sense of mission rooted in better serving the local community. This work has provided for pro-active audit of the locality and it's needs, as well as delivering on the practical project of providing fully accessible facilities on the church site. Partnership building has been a priority in this work with involvement of funders, community organisations and local authority collaboration. Richard has served in Scottish Episcopal Church since 2003 when he was appointed Provost of St.Andrew's Cathedral, Aberdeen. He has held office as a senior clergyman with appointments to the Standing Committee of the General Synod of the Scottish Episcopal Church and a serving member of the General Synod in the House of Clergy. During his time in Aberdeen Richard extended and developed the historical links and the 'bonds of affection' between the Episcopal Church and the Diocese of Connecticut USA; he was made Honorary Canon of Christ Church Cathedral Hartford in 2004. Securing research funding from the Templeton Foundation Richard co-directed a Scientists in Congregations project at the cathedral with Prof Nicolae Bulz of Romania.
In 2014 Richard was appointed as the General Secretary of The International Christian Maritime Association (ICMA). The work with ICMA was particularly involved in leading and managing the arrangements for training and support for welfare workers serving with all the Christian denominations worldwide. ICMA hold delegation status at the IMO (International Maritime Organisation – London)  and ILO (International Labour Organisation – Geneva) of the United Nations. ICMA have expertise and input in advocating for the well being of seafarers of the world. During his service with ICMA Richard collaborated ecumenically engaging with denominations globally in this important aspect of world mission.
On leaving school Richard trained as a navigation officer with Glasgow Shipping Company – the Anchor Line. He was put forward for ordained ministry in 1981.  Richard was ordained in the Church in Wales, diocese of St. Asaph in 1985 although he had his theological training at Coates Hall, Edinburgh and received an honours degree in Christian Ethics and Practical Theology from the Faculty of Divinity, New College, University of Edinburgh. After serving his title he embarked on 10 years ecumenical work in serving as Industrial Chaplain for North East Wales. Before coming to Scotland Richard served as Rector of three parishes and four churches in Newtown Mid-Wales and was appointed Rural Dean. In 2010 Richard was awarded MA Theology in Liturgical Studies from University of Wales Lampeter. His dissertation for the Master's degree was a 'case study' in liturgical reform based on the service of Baptism 2006 in The Scottish Episcopal Church.