Open Meeting Saturday 25th. August.2018
Thank you to all who attended the open meeting at 2.00pm Saturday 25th. August in the Hall. 20 adults and 2 children attended including church members and community residents. We were joined by Colette Martin – Development Worker for the Joe Wilson Table Tennis club, and Councillor Meghan Gallacher for ward 17 – Motherwell West. The Rector – Richard Kilgour presented the findings of the survey with a Powerpoint Presentation (click here to download 1.7 MB you will need Powerpoint Software to VIEW) followed by discussion and questions. People present were also invited to sign-up for activities presently being arranged; including 5K fun activity in Duchess Park Sat.20th October (all age event), Digital Inclusion Classes for Older People (available for Mondays daytime t.b.a) and the weekly Knit and Natter Group Tuesday 1.30-3.00 pm, and for the Table Tennis with the table on loan from Joe Wilson Table Tennis.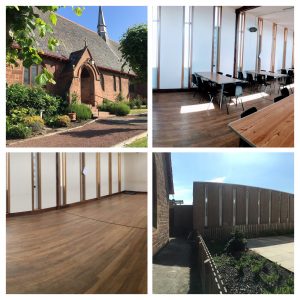 The Community Access Survey has now closed – THANK YOU TO ALL WHO HAVE COMPLETED THE FORM ONLINE OR SUBMITTED RESPONSES MANUALLY.
CONTACT AND INFORMATION
We have a Church Facebook page:  facebook.com/holytrinitymotherwell
HELP EMAIL to trinityaccessproject@gmail.com
You can download extra copies of a PDF version of the ORIGINAL SURVEY FORM HERE.  Also you can download a copy of the original information leaflet delivered to you.
Any personal data e.g. email address that you provide in the survey or to contact us will only be used to contact that address about the survey or to update you on progress and events connected with the survey. Email addresses will not be made available to third parties without your consent.