Gathering for the 5th SUNDAY Morning Worship together with Motherwell Holy Trinity and St.Andrew's Wishaw – the theme of the day was 'Feeding The 5000′ in the Gospel of John. The service included new members being enrolled into the Branch of the Mothers' Union making that 5 new members this week.
After the service we gathered for a BBQ run by Grace Craig and Chrissie Wilson with Danny Craig on the BBQ grill out under cover in the courtyard. Everyone enjoyed the friendship and fellowship together-young and old alike. Donations and funds raised will be added to the growing total for the Access Appeal for the Ramp and lifts.
Pictured – Ian Wilkins &Danny Craig, Grace Craig and the Mothers' Union Group.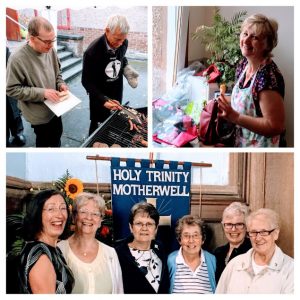 THANK YOU TO EVERYONE FOR THEIR SUPPORT.